Perfectly stitched Printed Sweatshirt, Woolen Fur Cap, etc., are offered by us at fair prices.
History
The foundation stone of our Ludhiana, Punjab, India based company, Sodagar Woollen Mills Pvt. Ltd., was laid in the 1900s by Late Shri Sodagar Mal Dang and since then, our company has come so far by offering our customers a clothing line of impressive quality at low price tags. Guided by the vision of our late mentor to achieve client satisfaction, we still stay committed to offer our customers quality, fashion and comfort, all in one. Later, this company was operated by Mr. Jagan Nath Arora and then Mr. Amit Kumar Arora and Mr. Sumit Arora. Owing to the hard work and positive attitude of Mr. Jagan Nath, the legacy of being reliable has only grown with each passing day. And, today, our company sprawls over an area of 2 Lakh square feet. The people of our company relentlessly work to maintain our reputation as an exporter and manufacturer of Hooded Sweatshirt, Ladies Jogger, Woolen Monkey Cap, Men V Neck Woolen Sweaters and more.
Product Portfolio
Gone is the time when winter clothes were only about grays and blacks. Today, people love to experiment with their looks and we help them with this by offering them a wide variety of colors, designs and patterns in the winter clothing. Sold under the brand name, Jagannath, our wide selection of garments include
Mufflers
Thermal Wear
Stoles
Sweatshirts
Woolen Cap
Pullover
Woolen Sweater and many more.
Infrastructure
We, at our company, knit, cut, print, sew and embroider. Yes, from beginning till the end, we perform every task in apparel manufacturing at our infrastructure. For this, we have developed a modern and highly functional base that is divided into different sections and units for proper carrying out of business tasks. Moreover, it is because of the segregation that we always complete our projects on time. We have all the units, ranging from material procurement to the design, production to quality checking, packaging to warehousing and many more. Each one of these is operated by a team of skilled employees who work hard to obtain the best results in the tasks assigned to them.
Innovation and Customer Satisfaction
Innovation is essential for every business, especially for the manufacturing ones. This is why; to stay at the competitive forefront and win our customers' hearts, we keep improving ourselves and our product line through innovation. Our team of production personnel, keep creating new clothing line for fulfilling the desire of wearers to have colorful and vibrant winter collection. Leveraging upon the skills and experience of our people, today, we have established a strong foothold in the markets of Middle East Countries and India.
Why Choose Us?
Technology: We have always updated ourselves, our people and our infrastructure with modern technology. Since the time of our origin, we have invested a lot in expanding and modernizing ourselves with cutting-edge technology.
Quality: The quality standards of our Full Sleeve Thermal Wear are considered a benchmark for other companies because we follow total quality management techniques while producing our offered clothing line. We keep a close eye over each and every stage of production and this is why; we have been accredited as A Star Rated Export House Certificate and ISO 9001:2015 certification.
Mission: The main mission of our company to have a perfect balance between human resources, system and technology for producing and supplying our product line without any hassle.
Machines: We have outfitted our production unit with technologically advanced machines including Flat Bed Knitting Machine, Stitching Machines and Circular Knitting Machines for efficient conductance of production process.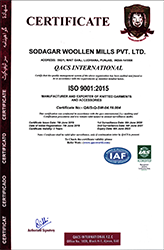 Get in touch with us